It's 12:04. You still have mounds of stuff to do and it's dark and rainy outside and generally ick.
But there is a solution.
On nights like this, I brew myself a cup of chai tea (the starbucks one is the best) with plenty of milk and sugar, and grab a handful of dried pineapple. Take a sip of tea, take a bite of pineapple... and drink your troubles away.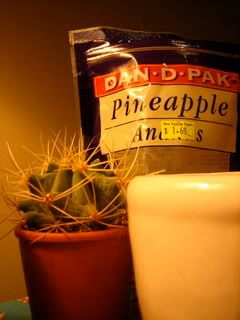 (Pineapple, my tea mug and Dennis -the prickly one- hanging out)